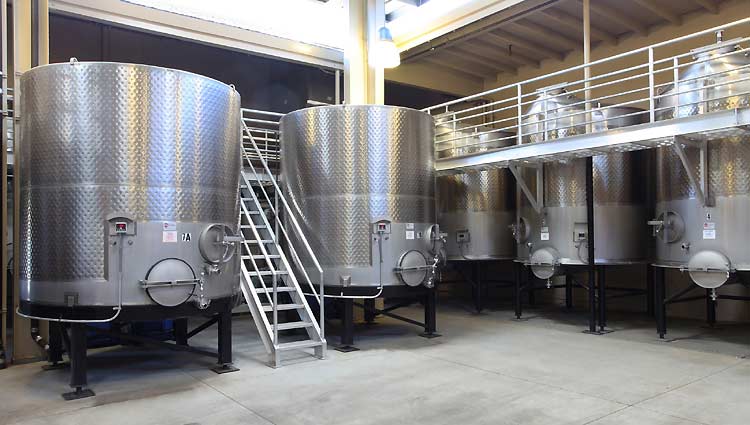 Integrated Aluminum Catwalks
Over 30 years of quality craftsmanship
Custom designed - Interior or Exterior
Westec custom designs and builds catwalks and stairways integrated with new or existing tanks. Our design and layout guidance will help you get the best value for your tanks and integrated catwalks.
Standard 24', 30', and 36' catwalk and stairway systems
New construction or upgrade of existing facilities
Public access stairways, walkways, platforms and guardrails
Improved productivity and labor-saving configurations
As the wine industry evolves, so do regulations and code requirements. The safety of the workers measuring the volume of the wine and doing adds at the top of the tank, and the safety of the product during earthquakes are crucial factors in winery design. As part of the planning process, Westec drawings are reviewed by engineers and shop drawings are stamped to verify weight load support and code compliance. We make sure they comply with city, county and OSHA requirements as well as meeting the goals of the owners and architects.
About 85-90% of the aluminum catwalk fabrication is done in our Healdsburg shop, then the catwalk is assembled on site. Good engineering does not end with excellent design and fabrication. Joe Belli, Jim Belli and Mark McDowell go the extra distance to make sure that the logistics of installation are expertly planned. Mark says:
When doing a project of this size, it's everything leading up the the catwalk installation that's important. We work closely with the owners to develop a coordinated workflow and installation plan that includes electrical, plumbing and refrigeration contractors. We don't leave it to someone else to put together a common, mutual design. Westec understands that what we do affects others and the outcome of the project itself -- that's what makes us stand out.
Joe Belli, Jim Belli and Mark McDowell know that success of your business depends on us doing our job right and on time -- every time. At Westec, our reputation for honest, reliable, friendly service was built by meeting and exceeding expectations year after year.